According to SearchMetrics.com "Google Ranking Factors U.S. 2012" report, Facebook Shares now appear to have the strongest correlation between volume and Google SERP rank–FB Shares ranked higher than the number of backlinks.
As an SEO, this was a little alarming and made me feel uneasy. This report shows that "Social [as] the new SEO" may be becoming a truth (that we SEO's don't much like). I've been fighting it. But now would like to test it. Who's with me?
First, let's look at the best Facebook Shares resources to date to learn how to get more Facebook Shares.
Then, we'll dissect a recent FB promotion to see what they did well and wherein they were lacking.
How to Get More Facebook Shares
Know about and work on mastering EdgeRank and Graph Rank
You can check your own EdgeRank at http://edgerankchecker.com.
Competitor Shares Analysis
You can learn a lot about what content to create and promote via Facebook by seeing what gets shared most on Facebook
SharedCount This tool shows Shares, Likes, Google Pluses, Tweets, Diggs, etc.
Graph.facebook.com [http://graph.facebook.com/facebookusername or http://graph.facebook.com/http://somedomain.com] – Straight from the Face. You can see the combined sum of how many times a URL was shared, commented on and/or liked
Opensite Explorer [http://www.opensiteexplorer.org] – Shows how many Shares a page or site receives
The Specifics
1. Use an eye-catching image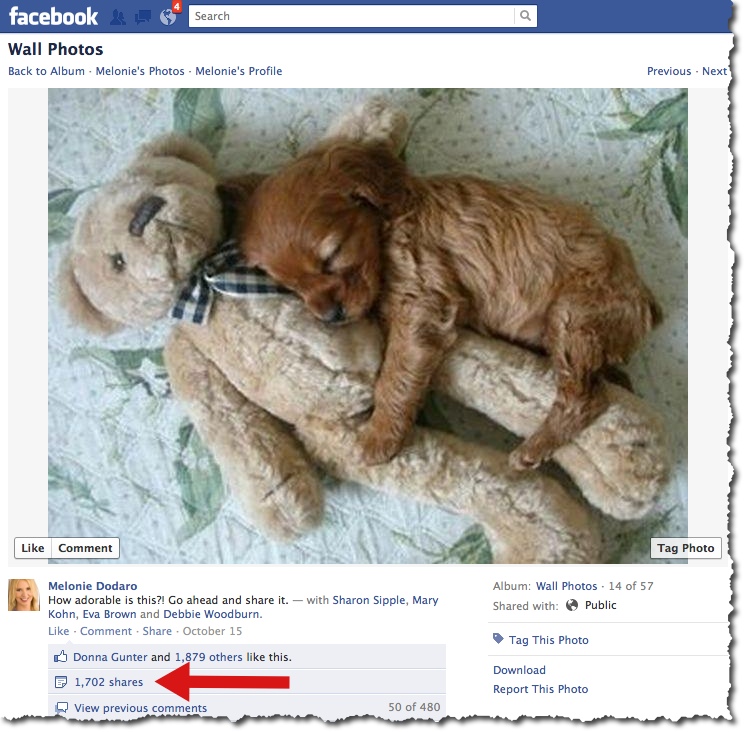 3. Keep first person to a minimum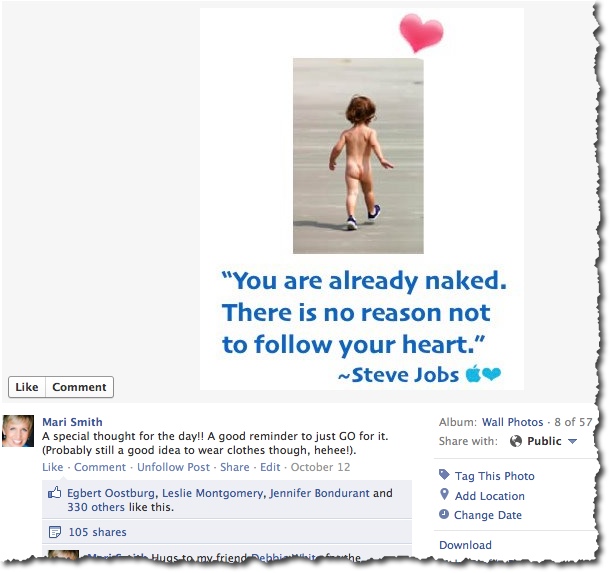 4. Include a call to action (love this image BTW)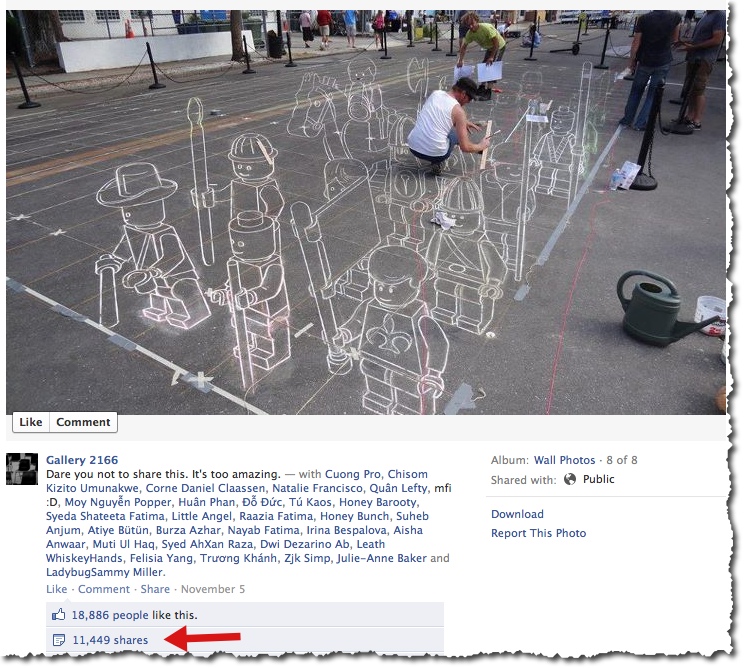 5. Write about timely topics with helpful tips and resources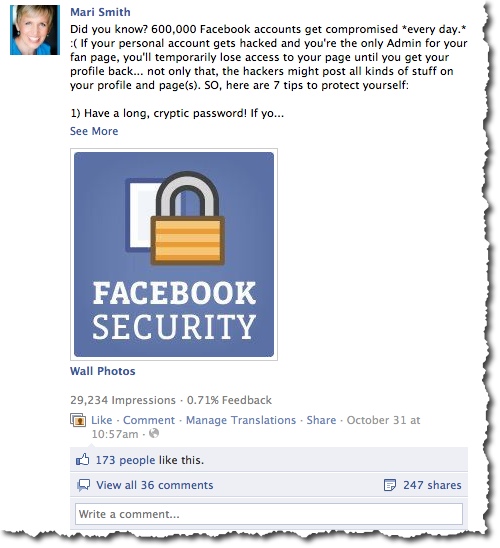 6. Experiment with longer content
7. Share a great cause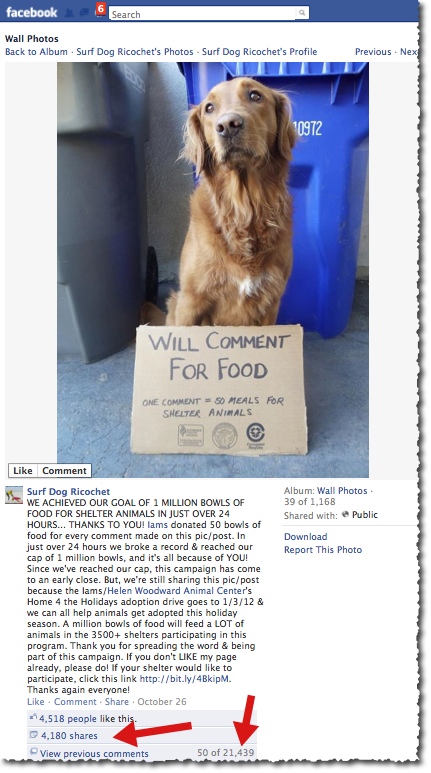 Bonus tip: Share more videos
"And a bonus tip, from Ryan Cohn of What's Next Marketing:
Among large audience clients (celebrities and brands), we typically see the most shares coming from unique/interesting videos. Usually these are behind-the-scenes peaks, though we've seen great shareability from loved-but-forgotten YouTube videos too.
P.S. Mari also points out that, "You may find that these tips are equally effective for increasing your number of shares on Google+ too"
Facebook Promotion Audit
The Who: NEFF Headwear
The What: NEFF Headwear Giveaway
The Why: This piece of content could have been much better optimized for SEO. And I'll explain that. Also, the lead singer of my old band is now the main designer for NEFF. It was the first status update I saw on my FB timeline that I'd actually share.
The Case for NEFF
I would love to win a NEFF Swag Pack! Why not "like" this? They didn't ask me to share, so I didn't think about it
I did "Like" it though. But what if I did want to Share it cause I want my friends to win Swag Packs too? Hmm.
Oh, look! I clicked on the little Share button and a new pop up inviting me to share the giveaway came up. I want to see if any of my friends Shared it too.
Well, these aren't my friends, so they must be public Shares. That's okay though.
The Good. The Bad. The Ugly. SEO-etically Speaking.
This was a great promotion for NEFF to get "Likes", but as you can see, the "Shares" are considerably low. NEFF could have also called for "Shares", or Shares alone as part of the contest.
Another thing I noticed lacking, NEFF did not include a link within the description and the image is not pulled from a website URL. This provides no benefit to the NEFF website. It may provide juice to their Facebook page from where the image was pulled–so better than nothing.
The Good
Promoted the giveaway via FB
Contest rules were clear
Call to action was strong
The Bad
Contest didn't include Shares as a requirement
Didn't add a URL to promote
This piece of content has a lot of untapped SEO power. The only real thing NEFF didn't do well, from an SEO standpoint, they didn't add a link to their website in the description or pull the image from a page on their site. They should have added a link to pass SEO juice.
Likes are still good to receive, so they didn't mess up there. But, if SearchMetrics' study proves true, asking for Shares would have been a great addition to the promotion.
So, in preparation for the "New SEO", "Social SEO", etc. spend some time testing the effect of accumulating FB Shares on your rankings.
Whether or not Social is the new SEO is still under debate. But as to whether or not social signals affect rankings, the most recent studies and reports show high correlation betwixt the two. So why not test. The worst that will happen is that you gain more social proof.
I'd love to hear your thoughts and/or experiences with Facebook Shares and their affect on your rankings. If you have other brilliant ideas on how to get more Facebook Shares, feel free to "Share" them here. Good luck, everybody!
Related Posts :